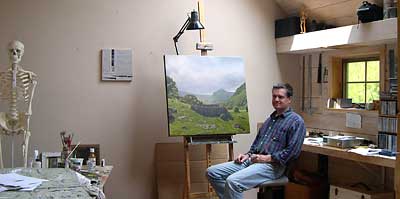 About the Artist
I've been working from my Cushing, Maine, studio since 1991. My work is about the merger of nature and culture – an attempt to make sense of our place in the world. I look at interior spaces and our imprint on the landscape with an eye for the imperfect, quirky, and sometimes elegant adaptations we've made in order to live here
Gallery   Representation:                                            
Galleries/Exhibitions
2011- 2019 Courthouse Gallery, Ellsworth, ME  Davidvickery-MHD-Article-Feature-May-2011
One-person  show August 2012  

2007 – present  Dowling Walsh Gallery, Rockland, ME
One-person shows, 2007, 2011, 2014, and ongoing representation.
2004 – 2006

The Gallery at 357 Main, Rockland, ME
One-person show and group shows

2004

William Ryan Gallery, Belfast, ME
Group shows

1996-2004

Sherry French Gallery, New York, NY
One person shows in 1998 and 2004, annual group shows.

2003

Center for Maine Contemporary Art, Rockport.
"Maine Seen".

2001

College of the Atlantic, Blum Gallery
"Varieties of Maine Realism"

2000

Farnsworth Art Museum, Rockland, ME
Blaine House, Augusta, ME
"Carina House: The First Decade" Nov. 1999-Jun. 2000

1998

Beth Urdang Gallery, Boston, MA
"Magic Realism" A selection of paintings, 1925-98

1995

Ames Gallery, Belfast, ME
"Maine Industry" Juried show

1992-1994

Bayview Gallery, Camden ME.
ongoing group showsMaine Coast Artists, Rockport
Annual Juried Exhibition 1993, 1994, 1996
"Artist in Residence" exhibition 1995
Collections
Master Card, St. Louis., Boeringer Corp. , CT., Wellington Management, Boston, MBNA, Center for Arts, Vero Beach, Florida, and many private collections across the country.
Residency
Was selected for the six week Carina House residency on Monhegan Island, 1993
Education
1987-1989

BA Human Ecology. College of the Atlantic, Bar Harbor, ME
Architecture, Art history, drawing, painting.

1983-1985

Sterling College, Craftsbury Common, VT
Books
Work included in:
Paintings Of New England (Carl Little/Arnold Skolnick, 1996)
Art of Monhegan Island (Carl Little/Arnold Skolnick 2004)